NGS-based Clinical Testing
(Part I)
by Andreas Scherer,
President & CEO

The adoption of genetic services is key to our ability to provide personalized medicine in the future. The goal is to better diagnose diseases, predict their outcome, and choose the best possible care option for a patient. We still have a long way to go to achieve this goal. While there is agreement about the ultimate goal, there is still a lot of uncertainty about the timing of the adoption. Essentially, it is a widely debated topic among experts. Here is what we know. There are three phases of the adoption:


Continue Reading »

Compute Kinship Matrices & GBLUP on Very Large Sample Sets
Gabe Rudy
VP of Product & Engineering

It may surprise you to learn that every variant in the human genome has an infinite number of representations! Of course, although true, I'm being a bit hyperbolic to prove a point.

Even seemingly simple mutations like single letter substitutions are legitimately represented differently in the local context of other mutations that can be described as a single complex substitution, or alternatively as multiple single letter changes mixed with insertions or deletions or even potentially equally represented along different sections of a repetitive reference sequence!
Continue Reading »

Precision Medicine leverages innovative tech advances
by Cheryl Rogers,
Director of Marketing

We are excited to announce that earlier this month an article by our CEO, Dr. Andreas Scherer, was featured in Chronicle Pharmabiz. The article is focused on how Precision Medicine is becoming a reality by leveraging the advances in technology.
Continue reading » FAQ: Creating Repeatable Clinical Workflows
by Hauwa Yusuf,
Field Application Scientist

Question: Now that I've added annotation sources for my sample, filtered down to a list of interesting variants, flagged those variants and generated a clinical report, can I save or copy the annotation sources and filters for use on another sample?

Answer: VarSeq was created with ease and efficiency in mind. In VarSeq, once you've defined a workflow (added annotation sources, created a filter chain and set thresholds on your filters), you can save your entire workflow and settings as a template. Saving your workflow as a template maintains all information from the workflow. This includes annotation sources that have been added, filter chain and thresholds, report template settings and even the organization of your views.


Continue reading »

Our 5 Most Watched Webcasts
by Cheryl Rogers,
Director of Marketing

Every month hundreds of clinicians and researchers access the variety of free resources on the Golden Helix website. Our resource library hosts eBooks, webcasts and tutorials to keep the community apprised of new methods, informed on best practices and to help our customers get the most out of their software purchase. Here is a list of the 5 most watched webcasts on the Golden Helix site.
Continue reading »
CEO Corner
President Obama put precision medicine on the map with his initiative in 2015 intended to leverage advances in genomics. Since then, we have made efforts on a global level to advance further in this area. It is my distinct pleasure to kick off the

Genomics & Pharmacogenics Conference

in Berlin, Germany, on Sept. 12. My talk will cover key success factors for implementing precision medicine. I will walk through a number of case studies that we observed in our work with leading testing labs, hospitals and research institutions. The audience is primarily researchers and clinicians from Europe. I am very much looking forward to being part of this outstanding event.
Latest Webcasts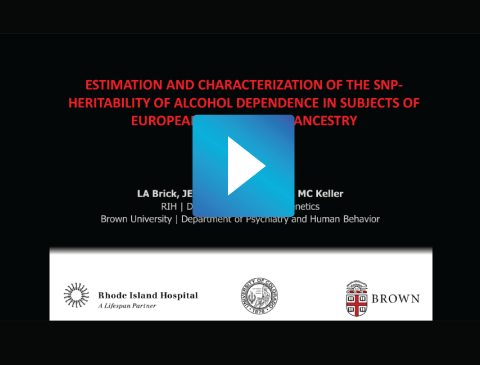 Investigating Shared Additive Genetic Variation for Alcohol Dependence
Molecular genetic research has supported the use of a multivariate phenotype representing alcohol dependence in studies of genetic association. One recent study found that additive genetic effects on Diagnostic and Statistical Manual of Mental Disorder version four (DSM-IV) alcohol dependence criteria overlap, describing a common pathway model that consists of a single latent variable representing alcohol dependence (Palmer et al. 2015). Using a large sample of individuals from European and African ancestry, we investigated the extent to which additive genetic variance tagged by common SNPs explain variation in alcohol dependence and whether these markers are shared across the two populations.

Watch

here

!



About Golden Helix
Golden Helix has been delivering industry leading bioinformatics solutions for the advancement of life science research and clinical and translational medicine for over 16 years. Our innovative technologies and analytic services empower scientists and healthcare professionals at all levels to derive meaning from the rapidly increasing volumes of genomic data produced from microarrays and next-generation sequencing. With our solutions, hundreds of the world's top pharmaceutical, clinical laboratories, biotech, and academic research organizations are able to harness the full potential of genomics to identify the cause of disease, improve the efficacy and safety of drugs, develop genomic diagnostics, and advance the quest for precision medicine. Golden Helix products and services have been cited in over 1,000 peer-reviewed publications.