NGS-based Clinical Testing
(Part II)
by Andreas Scherer,
President & CEO

We have come a long way since next-generation sequencing (NGS) evolved as a set of technologies in the 1970s. The higher throughput and rapid reduction of costs associated with NGS have lead to the accelerated adoption of clinical testing that we are experiencing today. Currently, it is applied to analyze inherited diseases, tumors, hematologic malignancies and infectious diseases. It is also used in noninvasive prenatal screening to detect fetal chromosome defects. This just names a few focus areas utilizing NGS.


Continue Reading »

Let There Be Genomes
Gabe Rudy
VP of Product & Engineering

Big data is here, but fear not, you don't need a Hadoop cluster to analyze your genomes or your cohorts of tens of thousands of samples!

It turns out, for the kind of algorithms employed in variant annotation and filtering, running optimized local programs is often faster anyway.As we support our diverse customer base, we have definitely seen the upward trend of sequencing whole genomes versus just exomes and gene panels, as well as the collection of exceedingly larger cohorts.
Continue Reading »

NGS-based Clinical Testing (Part III)
by Andreas Scherer,
President & CEO

Getting the NGS wet bench process right is not a small undertaking. Targeted NGS assays such as multigene panels or exome sequencing allow for the targeted analysis of genomic regions that are of particular interest. For every sample type, e.g. blood, formalin-fixed paraffin-embedded specimens, saliva etc, there must be a detailed protocol in place outlining how each sample type is going to be handled. The laboratory has to define and document clear and crisp criteria for the wet bench process summarized in a quality management program.
Continue reading » Determining the best LD Pruning options
by Jami Bartole,
Field Application Scientist

Pruning your data based on Linkage Disequilibrium (LD) values is an important quality assurance step for GWAS analysis. In particular, some tests such as Identity by Descent Estimation (IBD), Inbreeding Coefficient Estimation (f) and Principal Component Analysis (PCA) will obtain better results if the markers used are not in linkage disequilibrium with each other. Therefore, Golden Helix's SVS provides the LD Pruning feature to inactivate (prune) markers that are in LD with other markers. This allows you to perform your test directly on a set of activated markers with low LD compared to each other.


Continue reading »

NGS-based Clinical Testing (Part IV)
by Andreas Scherer,
President & CEO

The bioinformatics process to analyze NGS data occurs in three steps. First, we need to generate the sequence read file. This consists of a linear nucleotide sequence (e.g. ACTGGCA), with each nucleotide being assigned a numerical value that relates to its predicted accuracy. This step occurs within a DNA-sequencer, which is commercially available from companies such as Illumina. All sequence reads are stored in a FASTQ file generated from the sequencer. FASTQ files contain the compilation of individual sequence reads that are between 50 to 150 base pairs long. Depending on the selected coverage, a FASTQ file might contain millions to even billions of short read sequences.
Continue reading »
CEO Corner
We had exciting news this month at Golden Helix. I am happy to tell you that we have

reached ten thousand

(10,000) downloads of our eBook series. We are grateful for the encouraging and positive feedback that we are providing a valuable resource. At Golden Helix, we are committed to sharing best practices and updates on the latest technology via eBooks, but also through our blogs and webinars. In a fast moving industry like ours, we hope to continue contributing to the knowledge sharing required to accelerate the learning curve in our field.
Latest Webcasts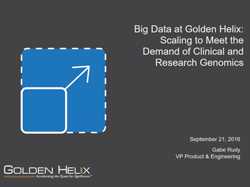 Big Data at Golden Helix: Scaling to Meet the Demand of Clinical and Research Genomics
Every day, the trove of genomic data is growing.Clinics are sequencing targeted genes at high read depths to report out genetic tests. Research groups are adding new exomes and genomes to their disease specific cohorts. Agricultural breeders are genotyping their herds and flocks by the thousands of thousands. Watch

here

!

Personalized Medicine through Tumor Sequencing
There are a range of different approaches for sequencing tumors ranging from the sequencing of a few genes in the tumor up to paired whole-exome sequencing in both the tumor and adjacent normal tissue. Each type of sequencing has benefits and drawbacks and a balance needs to be made between cost and usability of the results. Watch

here

!

About Golden Helix
Golden Helix has been delivering industry leading bioinformatics solutions for the advancement of life science research and clinical and translational medicine for over 16 years. Our innovative technologies and analytic services empower scientists and healthcare professionals at all levels to derive meaning from the rapidly increasing volumes of genomic data produced from microarrays and next-generation sequencing. With our solutions, hundreds of the world's top pharmaceutical, clinical laboratories, biotech, and academic research organizations are able to harness the full potential of genomics to identify the cause of disease, improve the efficacy and safety of drugs, develop genomic diagnostics, and advance the quest for precision medicine. Golden Helix products and services have been cited in over 1,000 peer-reviewed publications.