Golden Helix Among 50 Fastest Growing TECH Companies
by Cheryl Rogers
Director of Marketing

Golden Helix closed out 2016 with a great honor! In December, The Silicon Review magazine released a special addition in which it named Golden Helix as one of the fastest growing technology companies for 2016.

We continue to believe that our customers are paramount in this honor, as well as the other honors we received in 2016. We appreciate their continued support, praise and referrals as we strive to provide the best analytics software available for both researchers and clinicians.


Read the full interview »

What to expect from Golden Helix in 2017
Andreas Scherer,
President & CEO

The year 2017 is starting fast and furious for us here at Golden Helix. We just announced a new imputation capability for our SVS product. At the same time, members of our team are on the way to PAG in San Diego to network with our clients in the Plant and Animal community. We have a terrific plan in place for this year which revolves around the three center pieces of our mission to deliver advanced analytics capabilities in the genomics market space: value, quality and customer satisfaction.

Our overarching goal is to ensure that we deliver outstanding value to our clients. This means that we provide premium software capabilities at the right price point to make the application of our products in research and clinical settings possible. We have a wide network of stakeholders who advise us on important functions and features that make the life of our clients easier.
Learn More »
Case Study: Fighting Childhood Leukemia at St. Justine
by Cheryl Rogers,
Director of Marketing

Acute lymphoblastic leukemia (ALL) is the most frequently diagnosed cancer in children and one of the leading causes of death due to disease in children. Dr. Daniel Sinnett, along with Pascal St-Onge and their colleagues at Sainte-Justine University Health center have been investigating the molecular determinants of the disease to improve detection, diagnosis and treatment.

One particular area of study is precision cancer medicine. Specifically, the lab is seeking to find targeted therapies for patients who are not responding to their current treatments. Towards this goal, the lab is conducting whole exome sequencing and transcriptome analysis of matched tumor-normal samples. Their findings will then be reported to the molecular tumor board.
Continue reading » Utilizing VSReports in Your Clinical Workflow
by Steven Hystad,
Field Application Scientist

Clinical labs need to be able to process samples down to a short list of variants and publish a professional report. VSReports helps scientists and clinicians alike create timely, actionable reports that can improve clinical decision making and streamline patient care by seamlessly incorporating the results of tertiary analysis into a customizable clinical report.

To include the VSReports functionality in your workflow, you will first create a Record Set. To create a Record Set in VarSeq, simply click on the Record Set icon in the table view toolbar. Creating a Record Set in VarSeq allows users to flag and choose which variants to include in a clinical report.
Continue reading »
CEO Corner
First of all, I'd like to thank all of our customers and partners for their outstanding support the past year. Our company is flourishing as we extend our footprint here in the US and international markets. This week, I wrote a

blog

on our agenda for 2017. Our overarching goal is to make sure that our customers receive the best possible products and support we can provide. There are three dimensions to this: Value, Quality and Client Satisfaction. We are committed to deliver on all aspects of this. Thanks again for your partnership, and I wish you a successful start to 2017.
Latest Webcasts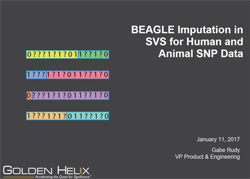 BEAGLE Imputation in SVS for Human & Animal SNP Data
Watch this webcast to see how we have written an open-source C++ port of Beagle v4.1 that is fully integrated into SVS and allows you to run your genotype phasing and imputation on human and animal data as part of your SVS analytics workflow. Watch

here

!

CNV Analysis in VarSeq
Numerous studies have documented the role of Copy Number Variations (CNVs) in human health with associated phenotypes including cancer, obesity, cognitive disability and numerous other maladies. Yet currently, detection of CNVs on targeted gene panels requires an alternative assay such as Chromosomal Microarrays (CMAs). As a result, current CNV detection techniques are expensive, slow and are only capable of detecting large multi-exon events. In this webcast, we will demonstrate a new VarSeq algorithm for calling CNVs from NGS coverage data. Watch

here

!

About Golden Helix
Golden Helix has been delivering industry leading bioinformatics solutions for the advancement of life science research and clinical and translational medicine for over 16 years. Our innovative technologies and analytic services empower scientists and healthcare professionals at all levels to derive meaning from the rapidly increasing volumes of genomic data produced from microarrays and next-generation sequencing. With our solutions, hundreds of the world's top pharmaceutical, clinical laboratories, biotech, and academic research organizations are able to harness the full potential of genomics to identify the cause of disease, improve the efficacy and safety of drugs, develop genomic diagnostics, and advance the quest for precision medicine. Golden Helix products and services have been cited in over 1,000 peer-reviewed publications.