NGS-based Clinical Testing eBook
by Andreas Scherer
President & CEO

This generation of scientists, clinicians and bioinformaticians have already elevated the standards for diagnosis, prediction and care, ultimately improving patient outcome for millions of people by leveraging genomic information. This trend is only going to continue. Next-gen sequencing has made its way into the clinic. Golden Helix supports the adoption of Precision Medicine by building products, such as our VarSeq Clinical Suite, that help to welcome in the next frontier of medical care.

In my latest eBook, NGS-Based Clinical Testing, we cover our best understanding on how this revolution in clinical diagnostics will unfold.


Download eBook »

Genotype Imputation and Phasing Coming to SNP & Variation Suite
Gabe Rudy,
VP of Product & Engineering

One of the tools at the top of the toolbox for researchers working with microarray data is genotype imputation.Genotype imputation is the process of inferring the genotype of one or more markers based on the correlation pattern (aka linkage disequilibrium or LD) of the surrounding markers for which genotypes are known.

Last week, we announced the coming integration of a natively ported version of BEAGLE into Golden Helix's SVS software. This integration will make imputation and phasing a first-class feature. One which does not require leaving the comprehensive SVS platform to run as part of your micro-array workflow.
Continue Reading »

GWAS 3.0
by Andreas Scherer,
President & CEO

I am happy to announce a third edition of our popular eBook on GWAS. This eBook aims to explain the basic steps and concepts to complete a GWAS experiment and address how these steps are implemented in SVS.

I spent some time to write a new section on Imputation, which is an essential capability when conducting genome-wide association studies. It allows the researchers to look for evidence of association between genetic markers that actually have not been genotyped. Imputation has the ability to increase the power of genome-wide association studies by enabling the research to combine data from different studies that were conducted using multiple genotyping platforms and methods.
Download eBook » Adding RSIDs to your SVS marker mapped spreadsheet
by Jami Bartole,
Field Application Scientist

In the new Genotype Imputation tool that is coming soon to SVS, allele encoding is an important part of matching data between the target and the reference panels. If the same platform provider is being used, then A/B encoding can be used. However, it's better to use the Reference/Alternate allele encoding associated with AGCT format to ensure accuracy.


Read more »

PhoRank in SVS: Gene Ranking for Your Research Genotypes
by Gabe Rudy,
VP of Product & Engineering

Since we released our Phenotype Gene Ranking algorithm in VarSeq, it has become a staple of the way people conduct their analysis. It allows for a combination of filtering with ranking to prioritize follow-up interpretations of analysis results. Our PhoRank algorithm will be available in our upcoming SVS release to also aid in the numerous research workflows performed on SNPs and variants.
Continue reading »
CEO Corner
This February, we shifted gears at Golden Helix. First, we launched our new imputation capability within SVS. We received tremendous feedback from clients for this long awaited capability. Second, I published a new version of the

GWAS eBook

that included a chapter highlighting imputation. We accompanied all of this with an introductory pricing offer that you can find

here

. Finally, I published a major revision of my previous NGS eBook. The new eBook, entitled NGS-based clinical testing, covers the most important aspects of implementing, vetting and maintaining a clinical testing pipeline. In case you missed it, you can download it

here

. Also, it is my distinct pleasure to congratulate the winners of our annual abstract challenge. We announced the winning candidates last week, and you can read about them in this

blog post

.
Latest Webcasts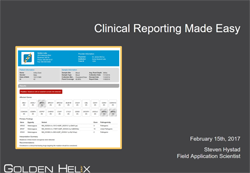 Clinical Reporting Made Easy
Clinical labs need to be able to process samples down to a short list of variants and publish a professional report. VSReports helps scientists and clinicians alike create timely, actionable reports that can improve clinical decision making and streamline patient care by seamlessly incorporating the results of tertiary analysis into a customizable clinical report. This webcast will walk through preparing a template for report generation, reviewing the generated report and performing some report customizations. Watch

here

.

P.S. Don't miss our upcoming webcast, Calling Large LOH and CNV Events with NGS Exomes.

Sign up

now!
Customer Success
Our clients have published a number of interesting articles this month, and as always we wanted to share the highlights. Check out of few of our favorites below and our full list of client publications!


About Golden Helix
Golden Helix has been delivering industry leading bioinformatics solutions for the advancement of life science research and clinical and translational medicine for over 16 years. Our innovative technologies and analytic services empower scientists and healthcare professionals at all levels to derive meaning from the rapidly increasing volumes of genomic data produced from microarrays and next-generation sequencing. With our solutions, hundreds of the world's top pharmaceutical, clinical laboratories, biotech, and academic research organizations are able to harness the full potential of genomics to identify the cause of disease, improve the efficacy and safety of drugs, develop genomic diagnostics, and advance the quest for precision medicine. Golden Helix products and services have been cited in over 1,000 peer-reviewed publications.