PreventionGenetics adopts Golden Helix CNV analysis
by Andreas Scherer
President & CEO

We are happy to announce the introduction of VS-CNV for Gene Panels and Exomes. We have developed this capability in partnership with PreventionGenetics.PreventionGenetics will use VarSeq CNV for analysis of gene panels, and in the future for exome sequencing. The software gives PreventionGenetics the opportunity to conduct a comprehensive CNV analysis on NGS data, in many cases eliminating the need for an expensive microarray test.


Continue Reading »

Updating VarSeq's Transcript Annotation along with NCBI RefSeq Genes Interim Release
by Gabe Rudy,
VP of Product & Engineering

Ever since the MacArther Lab announced the new gnomAD browser at last year's ASHG conference, we have had many requests from our customers to make this new variant frequency source available within both VarSeq and SVS.

This new dataset includes variants obtained from 123,136 exome sequences and 15,496 whole-genome sequences. In comparison to the original ExAC dataset which contained exomes from approximately 60K samples, the 1kG dataset of about 2,500 and the ESP Exome dataset of about 6,500, this is by far the largest sample source of variant frequencies publicly available.
Continue Reading »

Paying Attention to the Quality Fields in ExAC: A Case Study
by Gabe Rudy,
VP of Product & Engineering

It may be possible to say that annotating a variant correctly and accurately against gene transcripts is the most important job of a variant annotation and interpretation tool. We take it very seriously at Golden Helix as we support VarSeq and its use by our customers in both research and clinical contexts.

It has been a source of frustration that the default gene track for the commonly used GRCh37 genome reference is quite out of date from the current NCBI RefSeq database. In fact, it was created in 2013 as part of the 105 Annotation Release! Although new versions have come out on the latest GRCh38 genome reference, their policy has been to annotate "backward" to the previous, but still widely used 37 build.
Continue Reading » New Tutorial: VarSeq CNV Caller
by Jami Bartole,
Field Application Scientist

The new VarSeq CNV Caller Tutorial covers the basics of the VarSeq CNV calling algorithm, with an emphasis on visualization and interpretation of results. This workflow requires an active VarSeq license with the CNV Caller on Target Regions feature included. You can go to Discover VarSeq or email info@goldenhelix.com to request an evaluation license with the CNV functionality included.


Read more »

Coming Soon! The genome Aggregation Database (gnomAD)
Jami Bartole,
Field Application Scientist

Ever since the MacArther Lab announced the new gnomAD browser at last year's ASHG conference, we have had many requests from our customers to make this new variant frequency source available within both VarSeq and SVS. This new dataset includes variants obtained from 123,136 exome sequences and 15,496 whole-genome sequences. In comparison to the original ExAC dataset which contained exomes from approximately 60K samples, the 1kG dataset of about 2,500 and the ESP Exome dataset of about 6,500, this is by far the largest sample source of variant frequencies publicly available.
Continue reading »
CEO Corner
This month we released our extended CNV Analysis capabilities.

VS-CNV 2.0

is able to detect exon-level mutation events up to chromosome size duplication and deletions in NGS data. The methods can be applied to exomes as well as gene panels. There was a lot of

buzz at ACMG

regarding this latest development. We already have a number of clinical adopters in this space. Among them is PreventionGenetics, who issued a

press release

together with us on this very topic. If you are interested in CNV analysis, we are offering some special packages as a part of the new release. You can learn more

here

.
Latest Webcasts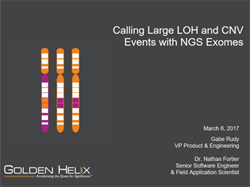 Calling Large LOH and CNV Events with NGS Exomes
Next Generation Sequencing Exomes are a powerful assay used in both clinical and research settings to discover novel and rare small variants. Now a mature part of many labs, exomes consistently provide coverage over hundreds of thousands of targets across the genome. Along with the small variants, exomes can also be used to call Copy Number Variations, providing extra value for data you may already have and discovering events that may not be captured by any of your existing testing technology. Watch as we review the next generation CNV and LOH calling algorithm coming to VarSeq

here

.

P.S. Don't miss our upcoming webcast with guest presenter Dr. Reza Sailani on his research using WES.

Sign up

now!
Customer Success
Our clients have published a number of interesting articles this month, and as always we wanted to share the highlights. Check out of few of our favorites below and our full list of client publications!


About Golden Helix
Golden Helix has been delivering industry leading bioinformatics solutions for the advancement of life science research and clinical and translational medicine for over 17 years. Our innovative technologies and analytic services empower scientists and healthcare professionals at all levels to derive meaning from the rapidly increasing volumes of genomic data produced from microarrays and next-generation sequencing. With our solutions, hundreds of the world's top pharmaceutical, clinical laboratories, biotech, and academic research organizations are able to harness the full potential of genomics to identify the cause of disease, improve the efficacy and safety of drugs, develop genomic diagnostics, and advance the quest for precision medicine. Golden Helix products and services have been cited in over 1,100 peer-reviewed publications.