By Popular Request: Our BEAGLE Algorithm Gains Support for Family Structure
by James Grover
Senior Software Engineer

Earlier this year we released our own optimized and integrated BEAGLE implementation for SVS based on the BEAGLE 4.1 and optionally 4.0 algorithms. One of the commonly requested features since that released was to expand the algorithm implementation to be considerate of the parent-offspring relationship between samples to inform and improve the accuracy of the haplotype phasing. With this information, both creating phased reference panels and the imputation of samples against those reference panels can improve in accuracy and also ensure there are no Mendelian errors in the resulting genotypes.


Continue Reading »

Updated PhoRank with OMIM Phenotype Terms and Improved Rankings
by Nathan Fortier,
Senior Software Engineer & FAS

In our latest VarSeq release, we updated our PhoRank algorithm with the ability to specify OMIM phenotype terms not present in HPO, as well as a general update to the algorithm to improve the results.

In this post, we review the fundamentals of how PhoRank determines the ranking of genes in your VarSeq projects based on your input phenotype terms (specified by project or by sample) and how our recent updates provide improved results over the original algorithmic strategy.
Continue Reading »

Springtime for SVS: Updates to PhoRank, Platform Support and Genotype Imputation
by Gabe Rudy,
VP of Product & Engineering

Recently, we added a natively supported Genotype Phasing and Imputation capability in SNP & Variation Suite 8.7.0. Since then we have had fantastic feedback and adoption as folks take advantage of the BEAGLE 4.0 and 4.1 algorithms from within their existing SNP GWAS and agrigenomic workflows.

One piece of feedback we heard from our time at PAG, ACMG and our ongoing conversations with customers using this new capability is that when available, it would be helpful to have the imputation algorithm be aware of the known family relationship structure of the samples (i.e. the pedigree table information).
Continue Reading » New Tutorial: VSWarehouse
by Steve Hystad,
Field Application Scientist

The new VarSeq CNV Caller Tutorial covers the basics of the VarSeq CNV calling algorithm, with an emphasis on visualization and interpretation of results. This workflow requires an active VarSeq license with the CNV Caller on Target Regions feature included. You can go to Discover VarSeq or email info@goldenhelix.com to request an evaluation license with the CNV functionality included.


Read more »

Webcast: Identifying genetic variants associated with rare Mendelian Diseases
May 3, 2017
Guest: Dr Jingga Inlora

Dr. Jingga Inlora is a postdoctoral fellow in the Snyder lab at Stanford University. In this webcast, Inlora will present on her team's recent study focused on identifying genetic variants associated with rare Mendelian Diseases.

Recent advances in next-generation sequencing (NGS) technologies have brought a paradigm shift in how researchers investigate common and rare diseases. While whole genome sequencing remains costly, whole exome sequencing (WES) is less expensive and has recently been introduced into clinical practices such as disease treatment, screening and prenatal diagnosis.

See the full abstract and register here »
CEO Corner
This month featured two terrific webcasts. Dr. Reza Sailani from Standord University kicked off the month off with a terrific overview of

two studies on Whole Exome Sequencing

at his lab. This was followed by an indepth overview of our

improved CNV capabilities

by Dr. Nathan Fortier. We are always excited to host events like this for our community. Each webcasts had hundreds of registrations from researchers and clinicians around the globe. Now, we have closed on a new and exciting strategic partnership. This will be announced next week, so stay tuned!
Latest Webcasts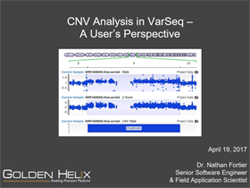 CNV Analysis in Varseq - A User's Perspective
Clinical labs must have the ability to go from a collection of samples to a professional report documenting a short list of clinically relevant variants and copy number variants. Copy number variants (CNVs) in particular play an important role in human health and disease, and the detection of CNVs in clinical samples has the potential to improve clinical diagnoses and inform treatment decisions. The VarSeq CNV Algorithm (VS-CNV) has been developed to help facilitate this analysis in a single algorithm that can be run in conjunction with your variant analysis. In this webinar, we will discuss the typical CNV workflow from a VarSeq user's perspective. Watch

here

.

P.S. Here is some Q&A from the webcast you can

read here

!
Customer Success
Several of our customers have published recently using our SVS software, and I wanted to share their work with you. Congrats to all! Here are some of the highlights:


About Golden Helix
Golden Helix has been delivering industry leading bioinformatics solutions for the advancement of life science research and clinical and translational medicine for over 17 years. Our innovative technologies and analytic services empower scientists and healthcare professionals at all levels to derive meaning from the rapidly increasing volumes of genomic data produced from microarrays and next-generation sequencing. With our solutions, hundreds of the world's top pharmaceutical, clinical laboratories, biotech, and academic research organizations are able to harness the full potential of genomics to identify the cause of disease, improve the efficacy and safety of drugs, develop genomic diagnostics, and advance the quest for precision medicine. Golden Helix products and services have been cited in over 1,100 peer-reviewed publications.