Discover the Latest Advances in Cancer Research and Genomic Analysis Tools at Golden Helix's Booth at AMP Europe 2023
Join Golden Helix at the Association for Molecular Pathology (AMP) Europe 2023 conference and explore the latest advancements in cancer research and molecular pathology. This premier event gathers prominent researchers, clinicians, and industry experts to share their knowledge on cutting-edge topics in cancer genomics and precision oncology.
At Golden Helix's booth, you'll have the opportunity to learn more about our state-of-the-art genetic analysis tools tailored for cancer research. Our comprehensive suite of software solutions includes VarSeq, VS-CNV, VSClinical, VSPipeline, and VSWarehouse, offering powerful and user-friendly options for genomic analysis and interpretation based on the ACMG and AMP Guidelines, with a special focus on somatic variant interpretation.
Visit our booth to experience a live demo of our software, discover the latest features, and discuss how our tools can elevate your cancer research and precision oncology efforts. Additionally, by attending our booth for a demo, you'll receive one of our exclusive t-shirts.
Don't miss this opportunity to uncover the latest in cancer-focused genetic analysis tools and connect with our expert team at AMP Europe 2023. We're excited to meet you there!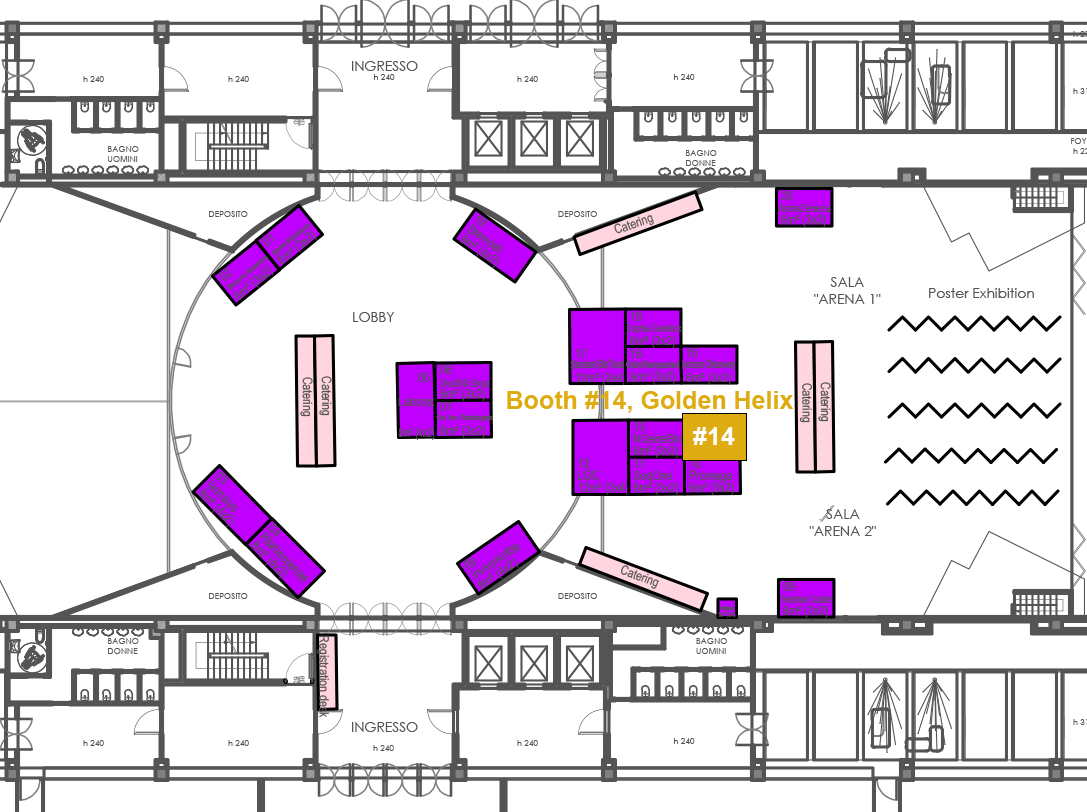 Demo schedule
Coming Soon.
As an industry leader in NGS technologies, we understand the importance of providing tailored solutions to meet the specific needs of each lab. Schedule a one-on-one meeting at ESHG with our President & CEO, Andreas Scherer, to discuss your lab's specific challenges and goals. He will provide expert insights and guidance on how our company can best support your lab in achieving its goals. This is a valuable opportunity to gain a deeper understanding of how we can work together to achieve success.
Industry Symposium
Achieving Economic Success as an NGS Lab: Strategy and Implementation
Monday, June 19, 13:00-14:00
Presented by: Andreas Scherer, PhD, Golden Helix CEO and President
This talk will be discussing the key strategies that economically successful NGS labs deploy to establish a sustainable, scalable, and profitable business model. Based on his experience working with hundreds of NGS labs globally, Andreas will share strategies and implementation examples that are key for NGS labs to be successful long-term. Click below to either add the event to your calendar or register for the virtual screening.

Add event to calendar
Stay Connected With Us at AMP Europe
Follow us on Twitter
Stay up to date on all the latest news and happenings by following us on social media. Find us on Facebook, LinkedIn, or Twitter.