The Golden Helix® team sends out a newsletter approximately once a month with commentary on the industry, featured tutorials and scripts, customer success abstracts, and more.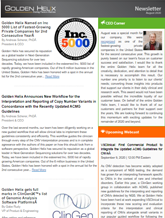 Past Newsletters
All of our past Newsletters are archived on our website. View them here »
Sign up to receive News from Golden Helix
You will also receive offers for exclusive eBooks, timely invitations to webcasts and events and other communications from Golden Helix.